Jr. Archery Program
The Standish Youth Archery League is run by Mike Scanlon with help from Larry Whitnauer, John Brennan and Andrew Delprete.
The program has become a highlight of the club's week. On Wednesday nights between the hours on 6:30 and 8:00 PM the archery range is occupied by youngsters of most ages who are having a good time socializing and developing their archery skills. A number of our members are busy instructing the kids on the finer points of bows and arrows in a controlled and fun filled environment.
If you know a young person who would be interested in participating in the program please fill out a Junior Archery Program Application and email the application to JuniorArchery@standishsportsmans.com or drop the application off at one of our monthly meetings.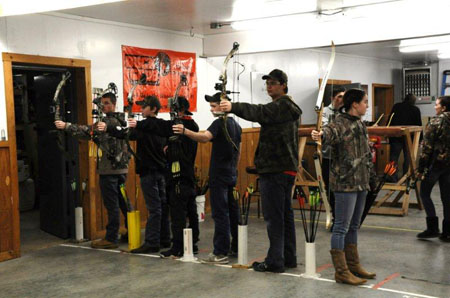 For more information contact Junior Archery below
Mike Scahlon 508-586-5561
JuniorArchery@standishsportsmans.com
Wednesday nights 6:30 PM to 8:00 PM during the school year.
The archery program is cancelled on school vacations.
Link: Junior Archery Program Application
Jr. Archers