2016 Standish Turkey Shoot November 20th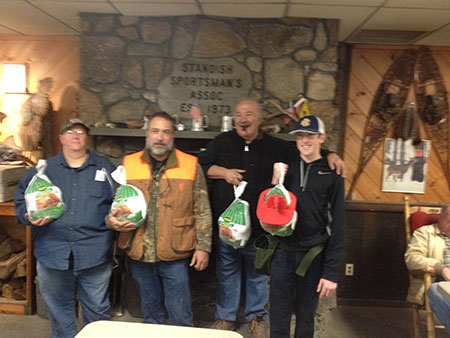 The rain (and snow) held off, and the temps were not bad for late November. We had 22 shooters (2 youths). Just about every round wasn't decided till the last shot rang out. After dealing with heavy winds and light jabs the final winners were: pictured left  to right:
Tim Hill, Art Cabral, Mannie Bethony, Joe(y) Dutcher
Thanks to Chip and Art for a great breakfast.
High Scorers were:
24- Tim Hill
22-Walt Potaznick, Nick, Ed Blandin, John Fab, Joe Cangeme, Joe(y) Dutcher,
     Scott Blood, Art Cabral
The next Trap shoot is the Christmas Shoot Sunday December 18, 2016
---
Halloween Party Held On October 29th
---
Adult Archery League - Game Night